A Film Lover's Guide to Santa Barbara
By: Santa Barbara Hotel Group / 10 Feb 2022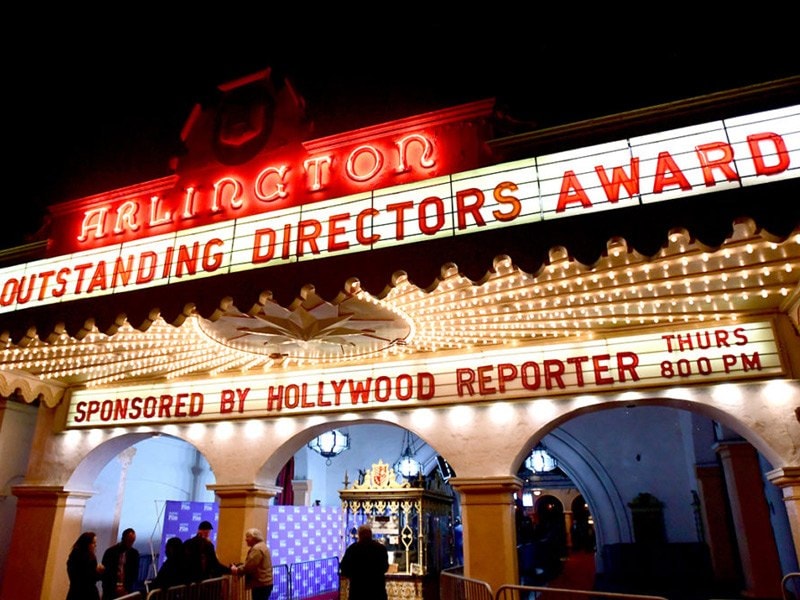 Experience "Hollywood North" on The American Riviera
SANTA BARBARA, CA – JANUARY 31: A general view of atmosphere at the Outstanding Directors Award during the 34th Santa Barbara International Film Festival at Arlington Theatre on January 31, 2019 in Santa Barbara, California. (Photo by Emma McIntyre/Getty Images for SBIFF)
Santa Barbara has played a supporting role in the film industry for more than a century. Back in the early 1900s, drawn by the diverse landscapes and temperate climate, Flying A Studios set up shop here and produced thousands of films, ranging from silent films to westerns. Eventually, the film industry would head south to Los Angeles when Hollywood became the epicenter of the film world it is today. But not without leaving a major mark on Santa Barbara and establishing an enduring connection with the film world.
Over the decades, filmmaking brought the biggest stars of the time to Santa Barbara. Naturally, they fell in love with the area—Santa Barbara became a popular vacation and destination wedding location of the stars as a result. Charlie Chaplin went so far as to open a hotel, as did the late Fess Parker of Davy Crockett and Daniel Boone fame.
Today, many movie stars and leading film producers and directors reside in Santa Barbara and Montecito full-time, while many more have second homes in the area. The proximity to Hollywood just 90 miles south allows them to be in LA as needed, while enjoying the relaxed Santa Barbara lifestyle. Julia Louis-Dreyfus, Kevin Costner, Michael Keaton, Oprah Winfrey, Gwyneth Paltrow, Rob Lowe and Prince Harry and Megan Markle are among the A-listers who might be spotted walking along local beaches, shopping in boutiques and markets and dining out.
More movie stars flock to Santa Barbara during the long-running annual Santa Barbara International Film Festival (SBIFF), which returns for its 37th year March 2-12, 2022. SBIFF is a key stop on the Hollywood awards circuit leading up to the Academy Awards. It features 11 days of star-studded events, film screenings, panel discussions and parties. What makes SBIFF so special for film fans is that all of the events are accessible to the public—tickets and passes are available for purchase online.
SBIFF offers an exciting opportunity to see and hear from your favorite actors and directors. Honorees being fêted at tribute events this year include Kristen Stewart; Benedict Cumberbatch; Nicole Kidman and Javier Bardem; Will Smith and Aunjanue Ellis; and "Virtuosos" Caitriona Balfe, Ariana DeBose, Jamie Dornan, Alana Haim, Emilia Jones, Troy Kotsur, Simon Rex and Saniyya Sidney. The Arlington Theatre is where the major events take place and fans can line up around the red carpet outside to catch a glimpse of the honorees as they enter the theatre and talk to media.
If you're more interested in binging movies from around the world, hundreds of films will be screened in our unique collection of historic theaters and modern cinemas. You can also attend panel discussions for an insider's view on topics like screenwriting and directing and women in film. Most events take place downtown in easy walking distance from each other and all are conveniently located to our four inns, whether you opt for the Best Western Plus Santa Barbara downtown or one of our west beach properties.
No matter what time of year you visit Santa Barbara, you can tap into our film history by visiting locations that have been seen in films from the early days to more contemporary productions. Major motion pictures that used Santa Barbara County backdrops include Seabiscuit (2003), It's Complicated (2009) and 20th Century Women (2016). The film set to Cecil B. DeMille's Ten Commandments (1923) can still be spotted peeking out of the sand at the Guadalupe Dunes Preserve in north county—a great itinerary addition if you're tasting wine in the Santa Maria Valley.
Speaking of wine, our most famous film credit is the Oscar-winning film Sideways (2004), which was set and filmed in Santa Barbara Wine Country. Guided Sideways themed wine tours are offered by a handful of local tour operators and you can do a self-guided tour with this map.