A Guide to Live Music in Santa Barbara
By: Santa Barbara Hotel Group / 28 Apr 2023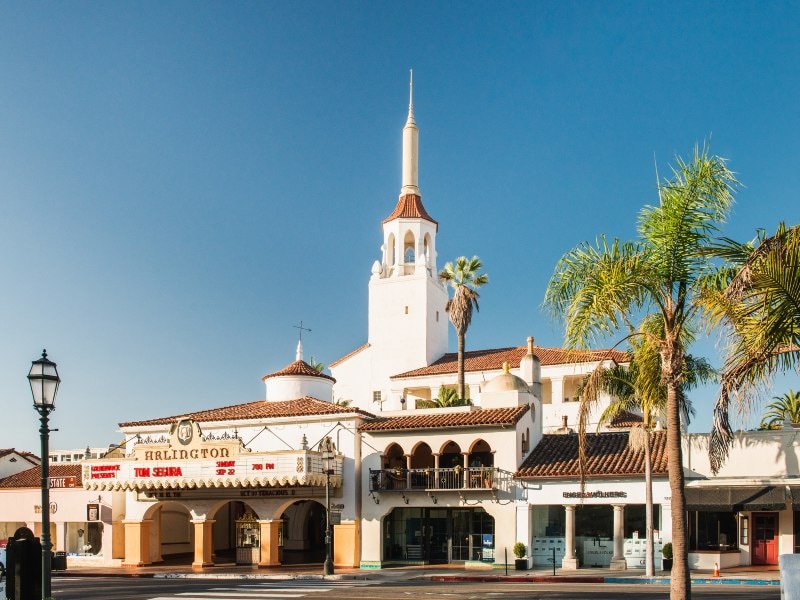 Summer isn't the only season when the sound of music emanates from Santa Barbara's parks, outdoor amphitheaters and concert halls. Music-lovers can tap into our performing arts scene all year round. For a city of its modest size, Santa Barbara is fortunate to attract a line-up of the world's top musical talent who run the gamut of genres—from pop, Latin and rock to opera, classical and country. A big part of the appeal for artists is the quality of our distinctive venues, many of which are historic and architecturally significant. Concertgoers benefit from the intimate size of these venues beloved by performers, be it the 4,562-seat Santa Barbara Bowl or the 604-seat Lobero Theatre. We've put together the following Guide to Live Music in Santa Barbara to help you plan your next visit around a hot ticket show and an entertainment experience you won't soon forget.
Santa Barbara Bowl
The Santa Barbara Bowl is a community treasure dating back to 1936. An outdoor amphitheater perched in the scenic foothills of the Riviera neighborhood, the Bowl's season typically runs from May through October. They host some of the biggest names in music, many of whom specially request a tour stop in Santa Barbara because they love playing the venue so much. Think Radiohead, Katy Perry, Van Morrison, The Chicks and Rod Stewart, to name just a handful. A flurry of remaining shows will close out the 2022 season, including Leon Bridges (Sep. 8), Maren Morris (Sep. 15), Bonnie Raitt (Sep. 22), Jack Johnson (Oct. 4 & 5) and Death Cab for Cutie (Oct. 19).
Granada Theatre
The tallest building in Santa Barbara standing at eight stories, the Granada Theatre has been a local landmark for nearly a century. Originally built in 1924, it survived the 1925 earthquake that transformed Santa Barbara into the architectural masterpiece it is today. The theatre underwent a massive, multi-year renovation in the early aughts and reopened in 2008 as the state-of-the-art Santa Barbara Center for the Performing Arts, serving as home venue to the Santa Barbara Symphony, Opera Santa Barbara and State Street Ballet, among others. The venue also welcomes touring acts. Fall shows on the calendar include Opera Santa Barbara's Tosca (Oct. 1), City of Birmingham Symphony Orchestra (Oct. 10), Santa Barbara Symphony's season opening production of Carmina Burana in partnership with State Street Ballet (Oct. 15 & 16), Scott Bradlee's Post Modern Jukebox (Nov. 16), Santa Barbara Symphony's Chumash tribute Wisdom of Sky, Water, Earth (Nov. 19 & 20) and guitar great Joe Bonamassa (Nov. 22).
Lobero Theatre
Founded in 1873 by Jose Lobero, the Lobero Theatre is California's oldest continually operating theatre. This intimate venue hosts local and national performers and produces their own annual concert seasons including Jazz at the Lobero and Lobero Live. Mark your calendar for the following shows: Cat Power (Sep. 9), Suzanne Vega (Sep. 28), Get the Led Out (Sep. 30), Benise: Spanish Nights (Oct. 1), An Evening with The Wallflowers (Oct. 7), Juilliard String Quartet (Oct. 24), Navajita Platea (Nov. 4), Opera Santa Barbara's La Scala di Seta (Nov. 13), The Immediate Family (Nov. 20) and Helene Grimaud (Dec. 7). Plus, several other holiday themed performances will take place throughout December if you're planning ahead for the winter holiday.
The Arlington Theatre
Built in 1931 as a grand movie house, today The Arlington Theatre plays host to cinema, concerts, comedy shows, Santa Barbara International Film Festival events and lectures. The State Street theatre's fall line-up is jam-packed with headliners including Sarah McLachlan (Sep. 23), Intocable (Sep. 25), Tom Jones (Oct. 5), Trey Anastasio Band (Oct. 7), Carly Rae Jepsen (Oct. 20), Café Tacvba (Nov. 6) and Whiskey Myers (Nov. 13).
UCSB Arts & Lectures
UCSB Arts & Lectures is responsible for bringing a compelling array of global talent to The American Riviera and their events and concerts take place at a variety of venues. On the musical side, upcoming performances include: Charley Crockett at The Arlington (Oct. 2), Ukraine's DakhaBrakha at The Granada (Oct. 6), The Linda Lindas at Campbell Hall (Oct. 15), Carla Morrison at Campbell Hall (Oct. 27), Soweto Gospel Choir at Campbell Hall (Nov. 2), Jean Rondeau at Hahn Hall (Nov. 4), Allison Russell at Campbell Hall (Nov. 16), Matthew Whitaker at Campbell Hall (Nov. 17), Jake Shimabukuro's Christmas in Hawaii at The Granada (Dec. 1) and Mariachi Sol Del Mexico at The Arlington (Dec. 7).
SOhO Restaurant & Music Club
A staple of Santa Barbara's music scene, SOhO Restaurant & Music Club is a family-run business dedicated to providing a stage for live music nearly every night of the week. The intimate downtown venue tucked in Victoria Court welcomes artists of all genres, including up-and-comers and established rock stars. A small sampling of hot tickets this fall include Skip Marley (Oct. 4), Henry Rollins (Oct. 6), Shwayze (Oct. 8), Margo Cilker (Oct. 20), The Dip (Nov. 10) and Phantoms (Dec. 8). Here, it's also a perk that you can book dinner and a show if you make reservations in advance.
Music Academy of the West
We can't talk about Santa Barbara's live music opportunities without highlighting Music Academy of the West in Montecito. Considered one of the country's preeminent summer schools and festivals for gifted young classically trained musicians, the Music Academy's premier public offerings run June through August. Some shows take place on their campus and others are held in downtown venues including the Santa Barbara Bowl. They do maintain a year-round presence in the community and the occasional public performance is staged at Hahn Hall on their gorgeous grounds.
Other Music Venues
Several local restaurants, bars and breweries offer live music on a regular basis throughout the year. For example, Third Window Brewing typically hosts live music Sunday afternoons and PALI Wine Company in the Funk Zone hosts Live Music Fridays. Santa Barbara Sailing Center's Double Dolphin curates Live Music on the Water cruises Friday evenings May through the end of October. Electronic DJs make appearances at venues such as the Wildcat Lounge and EOS Lounge alike. Last but not least, downtown State Street's lounge, The Red Piano, showcases live music seven days a week with indoor and outdoor performance areas.
Our front desk teams pride themselves on staying on top of what's happening and can assist you with planning a night out on the spot if you're not the plan-ahead type!