Falling for the Arts
By: Santa Barbara Hotel Group / 11 Oct 2021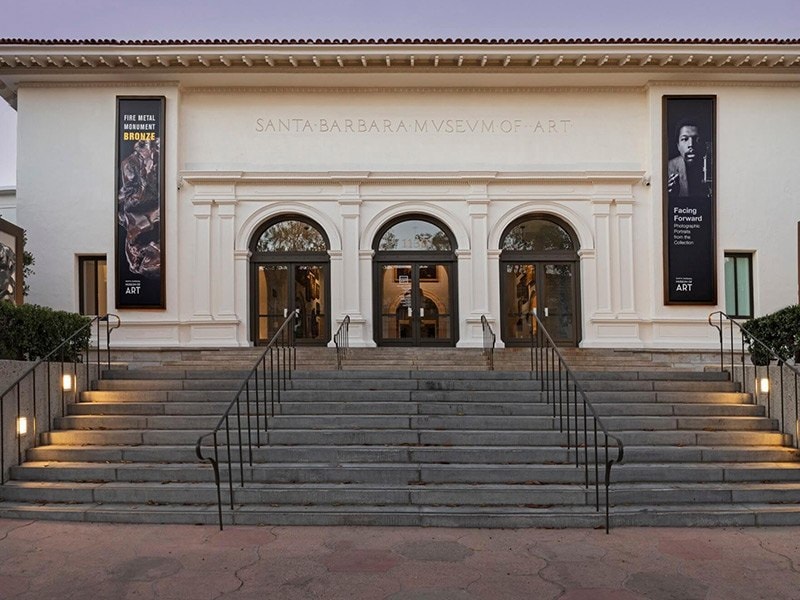 Get your cultural fix in Santa Barbara this autumn
Fall is traditionally the kick-off to a fresh slate of cultural happenings and art exhibitions here on The American Riviera. This autumn promises to be extra special as our arts institutions open their doors to visitors once again. If you're looking for a fix of culture, follow our mini-guide to what's on show at Santa Barbara's art museums and galleries this fall into winter.
Perhaps the hottest ticket of all is the prestigious Santa Barbara Museum of Art (SBMA), which reopened in August 2021 after the completion of a major $50 million renovation. Celebrating its 80th anniversary this year, SBMA now features new gallery spaces and a completely new installation of its permanent 27,000-piece collection of 27,000. The original 1912 structure was expanded through a meticulous architectural project that took six years, creating space for new galleries dedicated to photography, contemporary art, and new media—among other reimagined public spaces.
The inaugural contemporary art installation features a shining mirrored orb by Anish Kapoor, a neon piece by Laddie John Dill, and paintings by noteworthy artists such as Kori Newkirk, Dorothy Hood, Helen Frankenthaler, and Roger Shimomura. Currently on display in the photography gallery is Facing Forward: Portraits from the Collection, showcasing 25 works drawn from SBMA's renowned collection of photographs including works by Kwame Brathwaite, Manuel Álvarez Bravo, Genevieve Gaignard, and Tseng Kwong Chi. In the new media gallery, find Mediated Nature, a curation of video works that explore how the contemporary experience of nature has been shaped and influenced by current media technologies. And if you're planning ahead, mark your calendar for a 2022 visit to coincide with SBMA's upcoming temporary exhibition, Through Vincent's Eyes: Van Gogh and His Sources, on displayfrom February 27 to May 22, 2022.
SBMA currently encourages booking tickets online in advance through their timed ticketing system. The museum is open Tuesdays through Sundays and offers free admission to the public every Thursday evening during its extended hours from 5:00 p.m. and 8:00 p.m.
Just across the street from SBMA is Sullivan Goss Gallery, where you can catch Paper Trail: The Life Story of Great Works of Art through October 25. The temporary exhibition features both historic and contemporary works that have been made in important ateliers, owned by important art world figures, exhibited in museums, or published in magazines and catalogues. The gallery is also pleased to show its first Non Fungible Token (NFT) digital work as part of this robust exhibit. Sullivan Goss specializes in American art and always has works on display and for sale; the locally owned gallery is open daily and features many local artists like Hank Pitcher, Erika Carter, and Nicole Strasburg.
The Elizabeth Gordon Gallery is another leading local fine art dealer with a specialty for discovering emerging artists. Open every day but Sundays, you can pop into the Gutierrez Street space for an inspired look at the works of new talent. Neighboring the Arlington Theatre is Santa Barbara Fine Art Gallery, which is now showing a collection of works by artist Michael Enriquez, Sense of Place, through November 3. Santa Barbara Fine Art Gallery is dedicated to local artists that capture Santa Barbara's sense of place—many artists represented are from the celebrated Oak Group and this is your spot to find landscape paintings in particular.
If you're after the cutting-edge, Museum of Contemporary Art Santa Barbara (MCASB) is open Thursdays through Sundays and rotates the exhibits in its three gallery spaces a few times a year. Their next big showcase is a solo exhibition featuring Los Angeles-based artist, Rosha Yaghmai. Her work will be on view from October 23, 2021, through January 9, 2022. Yaghmai's pieces explore psychedelic themes that include feelings of transcendence and otherness. Her sculptural practice melds industrial and craft processes, and integrates materials such as silicon, resin, cast plaster, and fiberglass. You can find MCASB on the upper level of the Paseo Nuevo shopping mall and we love that admission is free!
Over in wine country, the charming Wildling Museum in Solvang focuses on the art of nature. The museum just debuted a new exhibit on display through March 20, 2022, Sharing the Light: Ansel Adams & Alan Ross, exploring the American West through the lenses of photographers Ansel Adams and Alan Ross. Another new exhibit on display through January 16, 2022, Sewjourners: Trees is the Museum's first textile-focused exhibition. It features the Coastal Quilters Guild artists' unique interpretations of trees through the medium of quilting. The Wildling is open Fridays through Sundays.
For a less formal arts experience, wander around the Funk Zone admiring the street art. And every Sunday you can catch the Santa Barbara Arts & Crafts Show on the waterfront Cabrillo Boulevard, where local artists and craftspeople working across a diversity of mediums display and sell their wares.